On March 31st, Wizards of the Coast (WotC) introduced their newest path for Tabletop Premier Play that starts with Regional Championship Qualifiers (RCQ's) at the Wizards Play Network (WPN) store level. This program has been broken into 11 different World-wide regions organized by regional tournament organizers. For those in the United States, that regional tournament organizer is Dreamhack.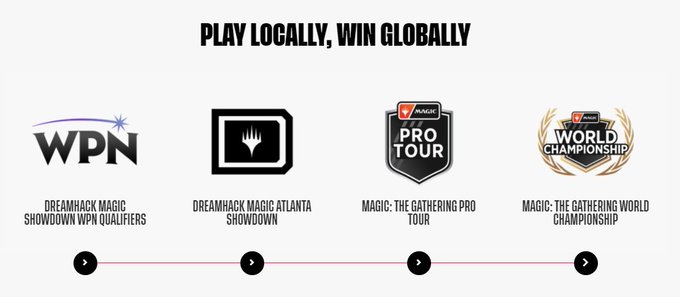 Currently the program is in its initial stages with WPN stores signing up to run RCQ's and purchase event kits for those events. Melee.gg is proudly helping Dreamhack by creating a hub for WPN Organizers to apply to run these RCQ's and purchase the associated event kits. If you're a US-based WPN store owner that's interested in running RCQ's, please follow these brief instructions on how to properly apply. Once you do, you'll receive more information in the following weeks.
How to Apply
To start the process, please click on the link HERE. This will take you to the Melee/Dreamhack landing page. At the bottom you'll find a form to enter your Wizards Play Network information. If you're not signed into an account on Melee.gg, you'll be asked to either sign into your account or create one. Once you do, you should be taken back to the same page to complete the WPN information form.
By completing this process, your Melee.gg account will automatically become an Organizer Account. You'll now have access to a DreamHack tab in your Organizer Dashboard. Here you can submit another application if you made a mistake with your original one, or additional applications if you own multiple WPN locations. If you do submit a second application to correct a mistake, please delete the incorrect one.
In the following weeks, you'll receive information on the following steps through the email address you entered on your application(s). We look forward to serving you and DreamHack in the initial steps back to a robust Premier Tabletop Organized Play Program!
FaQ
I've made a mistake on my submission form for RCQs, how can I get it fixed?
Navigate to your Organizer Dashboard where you'll find a DreamHack tab. Submit another form with the correct information, and delete the application with incorrect information.
I have multiple locations, how can I guarantee all of my stores will be able to purchase an event kit and organize a DreamHack RCQ?
Submit a form for each of your WPN locations.
Do I have to run the Regional Championship Qualifier on MTG Melee?
No. We're supporting DreamHack in the logistics for Event Kits, you should still use Event Link to run your RCQ. We do offer our services for the organization of player entry and decklist submission/validation, though that is completely optional.
I got an email saying my store has applied to purchase an event kit and organize a DreamHack RCQ, but I didn't submit any forms to do so. How do I get this resolved?
Please contact DreamHack via email: WPNMAGIC@eslgaming.com
For any other questions pertaining to DreamHack, please email them at WPNMAGIC@eslgaming.com